National Veterinary Technician Week
Though you may not always see them when you visit your veterinarian's office, veterinary technicians are the backbone of every veterinary hospital. Technicians are there for your pet throughout his or her hospital visit and do everything from conducting laboratory tests to comforting your pet during procedures. To recognize the integral role veterinary technicians play in delivering veterinary medical care, October 13-19, 2019 has been designated as National Veterinary Technician Week.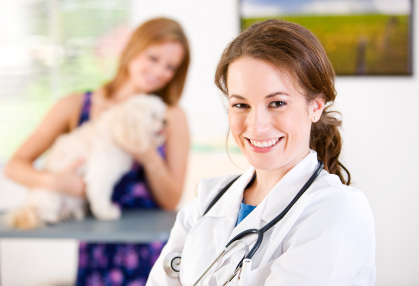 The National Association of Veterinary Technicians in America has sponsored National Veterinary Technician Week during the third week of October since 1993. The week is a chance to focus on the hard work, care and compassion that veterinary technicians across the country devote to animals and emphasize the team aspect of veterinary health care. In fact, this year's theme is "Veterinary Nursing in Action."
Veterinary technicians must undergo extensive training in order to stay on top of the latest advances in veterinary medicine and animal care. Credentialed veterinary technicians (technicians who are certified, registered or licensed by their state) must complete a college accredited veterinary technician program consisting of courses in anatomy, physiology, medical and surgical technology, anesthesia, pharmacology, microbiology, parasitology, radiology and practice management. After successfully completing the required courses, they must pass a state certification examination. Each year licensed veterinary technicians need to fulfill a set number of continuing education credits in order to maintain their certification.
What do veterinary technicians do for your pet? They draw blood, perform microscopic analysis, check your pet for internal parasites, monitor your pet during surgery, perform dental cleanings, administer medication and most importantly, ensure your pet's safety and comfort. Veterinary technicians are with your pet through every step of the hospital visit, from the initial check-in to the time he or she is discharged from the hospital.
There is no "typical" day for a veterinary technician. Some days may involve performing laboratory procedures and administering vaccinations, while other days might include taking x-rays and educating clients about veterinary care. In some veterinary hospitals, veterinary technicians help provide around-the-clock nursing care. So the next time you see the team of veterinary technicians at your veterinarian's office, be sure to let them know that you and your pet appreciate all their hard work, dedication, and compassion.